"Part and parcel of diaspora's mission is return investment in our country of origin. This means return flows of know-how, contacts and capital, facilitating exports, supporting nation-branding and international cooperation in business development, science, sectoral and regional growth. This "pragmatic latvianness" complements our very personal, intimate sense of belonging which is celebrated through cultural and traditional ties. #esiLV is a global network which mobilises the potential of professional diaspora for the benefit of mutual support and Latvia's growth."
(#esiLV board member and co-founder Elina Pinto)
***
The objective of movement #esiLV is to gather and represent Latvian diaspora enterpreneurs, professionals, investors and researchers and to build bridges of cooperation and knowledge transfer with partners in Latvia, in order to facilitate sustainable and dynamic development of Latvia and its regions.
 Objectives:
Advancing through cooperation: in your business, profession, science and innovation
Reinvest in Latvia: knowledge transfer, funds, human capital
The organisation houses several thematic workshops gathering nationbranding and international communication professionals, scientists and researchers (#ziniLV), international governance professionals (#risiniLV), arts and creative industries (#radiLV), healthcare administration professionals, and smaller working groups on climate, transport and energy, finance and AML. A major pillar of organisation's work is enterpreneurship – Latvian SMEs abroad, business development and export facilitation. Strategy and priorities are set by the board consisting of five members.
#esiLV has strong partnerships with public institutions, nongovernmental sector, universities and municipalities in Latvia. #esiLV is established in Valmiera, a bustling regional hub of business, innovation and creativity, but our reach is global – through each and every one of our members and followers. Join the community!
#esiLV unites across borders
#esiLV inspires to grow
#esiLV drives change
More about us:
https://ej.uz/esiLVpresentationEN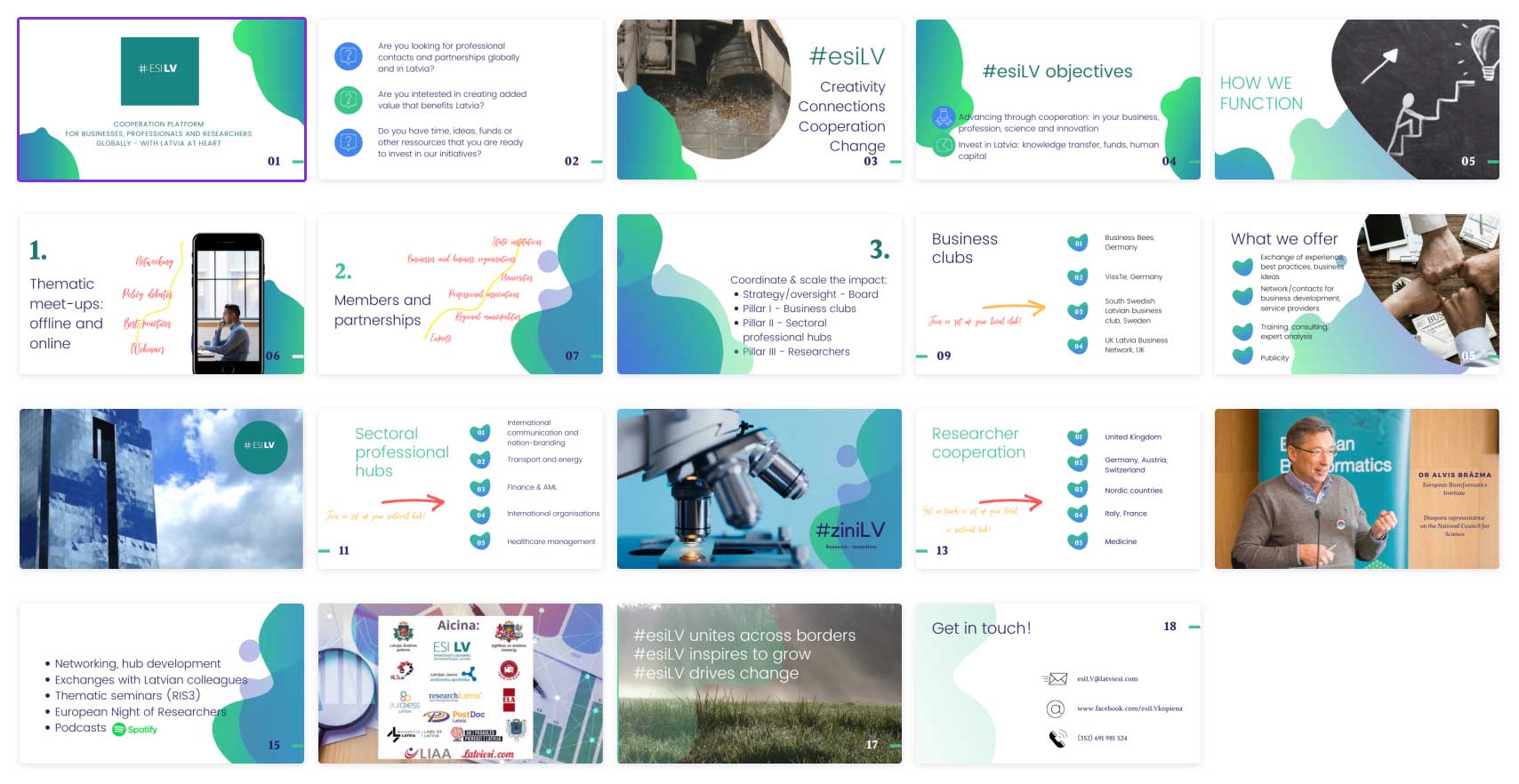 institutions that financially assist in the implementation of projects